Description
[from Freebase]
Kansas City is a 1996 crime film, directed by Robert Altman, and featuring numerous jazz tracks. Jennifer Jason Leigh, Miranda Richardson, Harry Belafonte, and Steve Buscemi starred. The film was entered into the 1996 Cannes Film Festival. A kidnapping goes down in 1934 Kansas City. Blondie O'Hara's petty thief husband Johnny is taken by gangster "Seldom Seen" and held prisoner at the Hey Hey Club, one of the hot spots of the Kansas City jazz scene. Blondie herself kidnaps Mrs. Stilton, the wife of a local politician, played by Michael Murphy. She wishes to blackmail the man into helping to free Johnny. Despite the risk to his re-election campaign, Mr. Stilton does everything he can in order to free his wife by saving Johnny. Meanwhile, Mrs. Stilton comes to befriend Blondie. She is impressed by Blondie's devotion to her husband, contrasted to her own loveless marriage. The soundtrack was produced by Hal Wilner and Steven Bernstein and featured several contemporary musicians playing the roles of famous jazz musicians from the 1930s. For example, Craig Handy plays the role of Coleman Hawkins, Joshua Redman plays Lester Young, and James Carter plays Ben Webster.
Review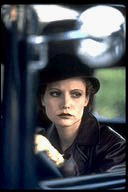 Every time Robert Altman makes a movie, it becomes the thing to do for the Hollywood acting community. It happened with The Player. It happened with Short Cuts. It happened with Ready to Wear. And it happened with Kansas City.
The only problem is that The Player was the last of his films that was really all that great. While Kansas City marks a slight improvement over Ready to Wear, that ain't saying much because, after all, so does Showgirls.
Kansas City is Altman's homage to the 1930s in the titular city, with a plot revolving around a brassy young girl named Blondie (Jennifer Jason Leigh) who kidnaps the drugged-out wife (Miranda Richardson) of one of President Roosevelt's advisors named Henry Stilton (Michael Murphy). Why? Because Blondie's husband (Dermot Mulroney) is about to be killed by local gangster Seldom Seen (Harry Belafonte), and Blondie thinks Stilton can get him back before it's too late.
That's basically it as near as I can tell, mainly because the plot of the movie is given second billing to the scores of jazz musicians Altman populates the film with. The jazz is everywhere — drowning out dialogue and action and just about everything else. Not that that's a bad thing, because without the music the film would be even worse than it already is. I just hadn't realized that Altman was making music videos now.
What's so bad about Kansas City? The main problem is that Altman tries to make this really dull, boring, and simple story into something that is unique, exciting, and intricate — all of which he fails at miserably. It starts with some horrible acting performances from otherwise good actors, the worst of the lot being Mulroney, who just stands there for 90 of the 120 minutes, looking like a sheepdog. And there's Leigh, who acts like she's reprising that wretched role from Georgia, stumbling from scene to scene, and leading me to re-evaluate my opinion of her acting ability altogether.
Kansas City does have a neat ending, but it's far too little, far too late, and in retrospect, it doesn't even make a whole lot of sense. But at least it was something different. Oh well.
Good thing Leigh's mouth is closed — you can't see the inexplicable black guck they put between her teeth.
Portions from Freebase, licensed under CC-BY and Wikipedia licensed under the GFDL