Description
[from Freebase]
Fargo is a 1996 American dark comedy-crime film produced, directed and written by brothers Joel and Ethan Coen. It stars Frances McDormand as a pregnant police chief who investigates a series of homicides, William H. Macy as a car salesman who hires two criminals to kidnap his wife, Steve Buscemi and Peter Stormare as the criminals, and Harve Presnell as the salesman's father-in-law. The film earned seven Academy Award nominations, winning two for Best Original Screenplay for the Coens and Best Actress in a Leading Role for McDormand. It also won the BAFTA Award and the Award for Best Director for Joel Coen at the 1996 Cannes Film Festival. In 2006 it was deemed "culturally, historically, or aesthetically significant" and inducted into the United States National Film Registry. In the winter of 1987, Minneapolis automobile salesman Jerry Lundegaard (Macy) is in financial trouble.
Review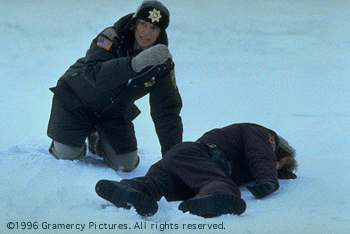 Fargo is one of those rare pictures about which we have nothing negative to say. Based on an allegedly true story (since debunked as fiction) that took place in North Dakota/Minnesota in 1987, Fargo is the instantly enthralling tale of the financially-troubled Jerry Lundergaard (William H. Macy), a plan to kidnap his wife (Kristin Rudrud), her wealthy father (Harve Presnell), the halfway-competent criminals who screw everything up (Steve Buscemi and Peter Stormare), and the pregnant cop who's on the case (Frances McDormand).
What makes a film like this, done a hundred different times in a hundred different ways, so good? Joel and Ethan Coen's script is the base — a wickedly funny and quirky screenplay that is executed with perfection by the leads, particularly Macy and McDormand. The brothers, who grew up in Minneapolis, where a large chunk of the action takes place, have also imbued the film with a rich and realistic regional flair — authentic from the weather to the clothes to (especially good) the accents. It's so real, you'll ind yourself actually hungry for back bacon.
Every shot of Fargo is executed like it's a piece of art with the Coens' typical style; there is nothing at all wasted in the film, as the Coens make even what would normally be dull establishing scenes fun. Also, while Fargo is as black as black comedy can get, it isn't completely over the edge (the problem that plagued The Hudsucker Proxy). More restrained–very much "back to basics" a la Blood Simple — the Coens have created a remarkable movie. Prepare to have a blast, and bundle up against that icy cold.
Portions from Freebase, licensed under CC-BY and Wikipedia licensed under the GFDL