Description
[from Freebase]
Extreme Measures is a 1996 thriller film based on Michael Palmer's 1991 novel of the same name, about the ethics of how far we are willing to go, and how much we are willing to sacrifice, in order to cure the world's ills. Dr. Guy Luthan (Hugh Grant) is a New York emergency room doctor who one night comes across a strange patient: a homeless man who has a wristband from a hospital he's not familiar with, mentioning a drug he's never heard of, and with strange symptoms, including a wildly fluctuating heart rate. When the man dies, Guy attempts to follow up and find out more about the patient - only to find that the body and all records have disappeared, and he's told by his superiors to drop the case. As he continues trying to find out what happened, his personal and professional life get suddenly sidetracked. His home is ransacked and cocaine is planted near his bedside. The police arrest him and he is convicted and in the process he loses his job, the ability to ever practice medicine anywhere in the world and virtually all of his friends. In desperation, he manages to get the help of some homeless men who lead him to their underground home.
Review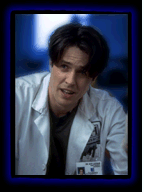 It's an old question of what's right and what's wrong: if you could cure a disease by killing one person, would you do it? That's basically the premise which starts up Extreme Measures, an ultra-creepy little medical thriller by prolific filmmaker Michael Apted.
If you can deal with the notion of Hugh Grant as a doctor, you've probably suspended disbelief enough to buy the whole production. Dr. Guy Luthan (Grant) finds a mystery patient in his trauma room at Gramercy Hospital. When the patient dies from a bizarre collection of symptoms, no one seems to care except for the dashing British doc.
Guy's investigation leads him into a conspiratorial cover-up in the hospital system, an underground dwelling of human moles, and a cryptic research lab where groundbreaking medicine is practiced — on human subjects. What's more is that the head of the research lab is none other than Dr. Lawrence Myrick (Gene Hackman), one of the country's most respected physicians.
Blending the right amount of 'medical' with just enough 'thriller,' Extreme Measures succeeds in giving the audience the willies from its opening scenes. Danny Elfman's creepiest score to date does a lot to help out, too, and Hackman is always good at getting you squirming in your seat. Lots of blood, surgical scars, and seizures are even more effective, giving cause to wonder, where was David Lynch when this movie was being made?
Performances are fair to good, with the exception of supporting player Sarah Jessica Parker, who really isn't at home playing an unglamorous nurse. The 2-hour film moves along quite well, too, never getting too caught up in boring exposition while keeping the viewer informed with just enough backstory. On the other hand, there's not a whole lot of 'thrill' to the picture, just background discomfort that's scarier than any horror flick.
Overall an above average movie, but Extreme Measures gets bonus points for exposing the harsh truth about physicians and confirming my worst fears: they really are all evil.
This ain't no Four Weddings.
Portions from Freebase, licensed under CC-BY and Wikipedia licensed under the GFDL