Description
[from Freebase]
Casino is a 1995 crime drama film directed by Martin Scorsese. It is based on the non-fiction book of the same name by Nicholas Pileggi, who also co-wrote the screenplay for the film with Scorsese. The two previously collaborated on the 1990 hit film Goodfellas. The film marks the eighth and (to date) final collaboration between director Scorsese and Robert de Niro, following Mean Streets (1973), Taxi Driver (1976), New York, New York (1977), Raging Bull (1980), The King of Comedy (1983), Goodfellas (1990), and Cape Fear (1991). De Niro stars as Sam "Ace" Rothstein, a Jewish-American top gambling handicapper who is called by the Mob to oversee the day-to-day operations at the fictional Tangiers casino in Las Vegas. The story is based on Frank Rosenthal, who ran the Stardust, Fremont and the Hacienda casinos in Las Vegas for the Chicago Outfit from the 1970s until the early 1980s. Joe Pesci plays Nicky Santoro, based on real-life mob enforcer Anthony Spilotro. Nicky is sent to Vegas to make sure that money from the Tangiers is skimmed off the top and that the mobsters in Vegas are kept in line.
Review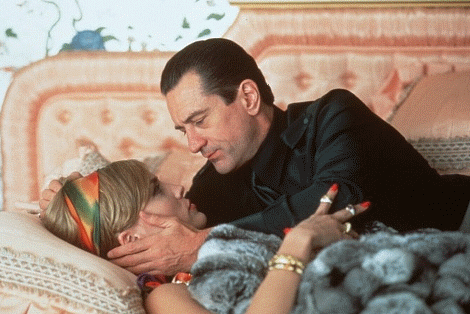 Based on a true story, Casino is the tale of Sam Rothstein (Robert De Niro), the best of the old bookmakers, who is hand-picked by his mob bosses 'Back Home' to go to Las Vegas to run the Tangiers Casino. Sam has to contend with managing the bosses' skim going out the back door, cheats at the tables, the law breathing down his neck, and strung-out hustler Ginger (Sharon Stone), whom Sam falls for, and, despite his better judgment, eventually marries. Add to the mix Nicky Santoro (Joe Pesci), who basically reprises his role from GoodFellas as a 'problem solver' with a temper from hell, and it's pure chaos in the high-glamour world of 1973 Las Vegas.
Scorsese directs with his characteristic style, creating a film that is at once surreal and full of gritty realism, particularly when the violent Nicky plies his trade. The film ranges from glued-to-the-screen sequences, the best of which is when Sam and his crew bust a couple of blackjack cheats, to a number of dull scenes, mainly about Sam fighting to get his gaming license.
The best part of Casino is smart acting by the three principals as well as the supporting characters (including Don Rickles, of all people, in a memorable role). De Niro evokes real sympathy for Sam, and Stone's Ginger is the consummate Bad Girl. You get a bad taste in your mouth just watching her and Pesci on screen. Also watch for a smarmy James Woods as Ginger's old pimp. The film's unexpected and frequent humor is played up beautifully to ease the film's tension. The result is a cozy little epic that's worth seeing. Just remember to bring provisions for the experience; you're going to be there for awhile.
Portions from Freebase, licensed under CC-BY and Wikipedia licensed under the GFDL