Description
[from Freebase]
Pulp Fiction is a 1994 American crime film directed by Quentin Tarantino, who co-wrote its screenplay with Roger Avary. The film is known for its rich, eclectic dialogue, ironic mix of humor and violence, nonlinear storyline, and host of cinematic allusions and pop culture references. The film was nominated for seven Oscars, including Best Picture; Tarantino and Avary won for Best Original Screenplay. It was also awarded the Palme d'Or at the 1994 Cannes Film Festival. A major critical and commercial success, it revitalized the career of its leading man, John Travolta, who received an Academy Award nomination, as did costars Samuel L. Jackson and Uma Thurman. Directed in a highly stylized manner, Pulp Fiction joins the intersecting storylines of Los Angeles mobsters, fringe players, small-time criminals, and a mysterious briefcase. Considerable screen time is devoted to conversations and monologues that reveal the characters' senses of humor and perspectives on life. The film's title refers to the pulp magazines and hardboiled crime novels popular during the mid-20th century, known for their graphic violence and punchy dialogue.
Review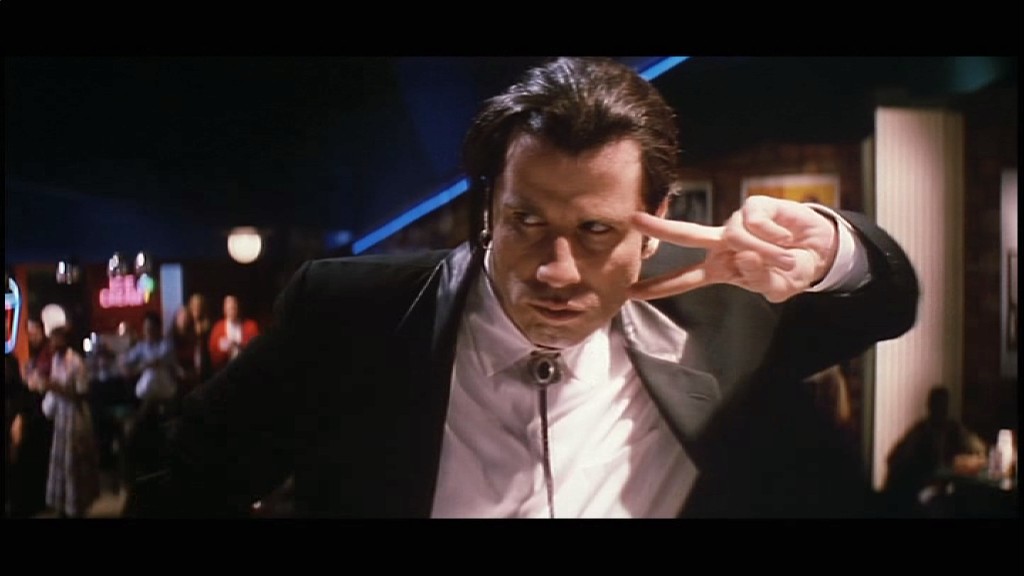 Royale with cheese, baby, royale with cheese. The film that single-handedly changed the face of American — and world — cinema in 1994, Quentin Tarantino's Pulp Fiction is a rare masterpiece that is unlikely to be repeated by him, or his imitators. And believe me, many have tried, with varying levels of success.
This set of interlocking tales involving gangsters, boxers, druggies, and plain old joes is alternately exciting and funny — and often both at the same time. Whether it's John Travolta's Vincent Vega doing the twist with his gangster boss's wife and later miraculously pulling her out of a drug overdose, Samuel L. Jackson reciting the Bible or picking splattered brain out of his enormous afro, Tim Roth and Amanda Plummer robbing a diner, Bruce Willis throwing a boxing match and later ending up facing a couple of oversexed hillbilly degenerates, or Ving Rhames overseeing the whole proceedings, the movie is utterly brilliant, hilarious, and thrilling. Even the little things are perfect: Tarantino has never since quite managed to recapture his masterful use of the close-up and fantastically interesting lighting choices. It's one of only a handful of films that gets better every time you watch it.
Put simply, few other films have ever achieved even a fraction of what Pulp pulls off in a single sequence. Sure, the vignettes can be overly simplistic (do Vincent and Jules really need Mr. Wolf to tell them to get clean and put blankets down in the car to cover up all the goop?) but they get us to the fun parts of the movie — the surprising conclusions of the vignettes and the crafty dialogue along the way.
Finally released as a special two-disc DVD, the new release features much-desired deleted scenes (introduced by a manic Tarantino), behind-the-scenes footage, trailers and TV spots, and a whole lot of junk (acceptance speech at the Palm D'Or? a Siskel & Ebert vignette? ugh). That said, the Jackrabbit Slim's menu insert is priceless — they even misspelled 'cobbler.' If you've got a DVD-ROM drive, you get trivia games, the screenplay, and the option to make your own commentary track.
Ignore the chaff. Cherish the rest.
Portions from Freebase, licensed under CC-BY and Wikipedia licensed under the GFDL