Description
[from Freebase]
Reservoir Dogs is a 1992 crime film marking the debut of director and writer Quentin Tarantino. It depicts the events before and after a botched diamond heist, but not the heist itself. Reservoir Dogs stars an ensemble cast: Harvey Keitel, Steve Buscemi, Tim Roth, Michael Madsen, Chris Penn, and Lawrence Tierney. Tarantino has a minor role, as does criminal-turned-author Eddie Bunker. It incorporates many themes that have become Tarantino's hallmarks: violent crime, pop culture references, profuse profanity, and a nonlinear storyline. The film contains key elements similar to those found in Ringo Lam's 1987 film City On Fire. The film has become a classic of independent film and a cult hit. It was named "Greatest Independent Film of all Time" by Empire. Reservoir Dogs was generally well received, and the cast was praised by many critics. Although it was never given much promotion upon release, the film was a modest success in the United States by grossing $2,832,029, which made its $1.2 million budget back. The film was more successful in the United Kingdom, grossing nearly £6.
Review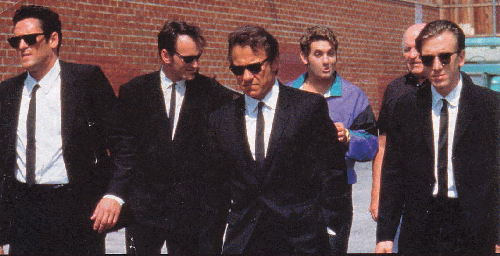 Now here's a stellar directorial debut from some guy named Quentin Tarantino.
Before he became a household name, Tarantino stunned us all with this low-budget tale analyzing the before-and-after (and remarkably very little of the 'during') of a diamond heist. Set largely within the confines of one warehouse, the movie is so chock full of witty and quotable dialogue ('Mr. Brown? That sounds too much like Mr. Shit. ') and eye-popping scenes (when, say, the suspected cop is doused in gasoline and has his ear cut off) that it has become an instant classic. Not incidentally, it also remade both the heist movie and the gangster flick, spawning countless imitations, just like later Tarantino works would do.
Tarantino has continued to impress in such milestones as Pulp Fiction (which, if you watch repeatedly, is revealed as a sequel to Dogs), but his first-film gem is something that will be a cinematic reference point for ages. (It is also a loose remake of the Chinese actioner City on Fire.)
For its ten-year anniversary (and coinciding with the reissue of Pulp and Jackie Brown), Dogs gets the double-disc DVD treatment, an exhaustive collection of extras including the widescreen and full-frame versions of the film, deleted scenes (including two alternate angles of the ear scene), new retrospective interviews, audio commentary, and a whole lot more. Some of this is extremely strange — like K-Billy radio outtakes, a 22-second 'Reservoir Dogs Style Guide,' and even a documentary about the Reservoir Dogs action heroes. The clever (from a merchandising perspective) catch is that the DVD is being released in five versions, with five of its main 'Mr.' characters on the covers. Artisan sent me Mr. Pink, which includes a Mr. Pink-specific insert, photos, dialogue quotes, and so on.
For the extremely obsessed, nothing other than the Reservoir Dogs 4-Pack will do, which includes four copies of the movie (with every cover but Mr. Brown, allegedly the rarest of the bunch). (The content of the disc sets is all the same.)
The 15th Anniversary DVD includes two discs as well with some additional extras, including critics' commentaries, a 'factoid viewer,' and a documentary about the effect of Dogs on modern cinema. But the real sell here is the packaging, perhaps the most unique I've seen in a movie: It comes in a miniaturized gasoline can, and the discs are attached to an oversized matchbook. Get it? Oh, you will.
Dogs out for walkies.
Portions from Freebase, licensed under CC-BY and Wikipedia licensed under the GFDL