Description
[from Freebase]
Predator is a 1987 American science fiction action film directed by John McTiernan, starring Arnold Schwarzenegger, Carl Weathers, Jesse Ventura, and Kevin Peter Hall. It was distributed by 20th Century Fox. The story follows an elite special forces team, led by 'Dutch' (Arnold Schwarzenegger), on a mission to rescue hostages from guerrilla territory in Central America. Unbeknownst to the group, they are being hunted by a technologically advanced form of extraterrestrial life, the Predator. Predator was scripted by Jim and John Thomas in 1985, under the working title of Hunter. Filming began in April 1986 and creature effects were devised by Stan Winston. The film's budget was around $15 million. Released in the United States on June 12, 1987, it grossed $98,267,558. Initial critical reaction to Predator was mixed, with criticism focusing on the thin plot. However, in subsequent years critics' attitudes toward the film warmed, and it has appeared on a number of "best of" lists. Two sequels, Predator 2 (1990) and Predators (2010), as well as two crossover films with the Alien franchise, Alien vs. Predator (2004) and Aliens vs. Predator: Requiem (2007), have been produced.
Review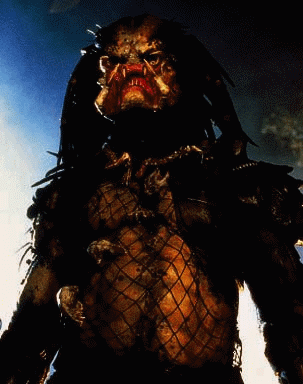 The formula behind Predator involves a half-dozen hulking, overconfident U.S. commandos (led by Arnold Schwarzenegger) who travel to an isolated location in the Mexican jungle to rescue hostages from terrorists. After completing the mission without difficulty, a few surprises erupt. First, they discover that one of the commandos had a personal agenda in completing the mission. Second, the commandos begin meeting grisly demises. One by one, they fall prey to an unseen jungle predator. But who — or what -- is killing them, and why?
Initially, it appears that the enemy is a renegade terrorist, admirably camouflaged in the jungle surroundings. When a commando spots glowing eyes floating through the jungle, however, it becomes apparent that a terrorist isn't hunting them. It's something far worse. "There's something out there waiting for us, and it ain't no man," a commando mutters to his team. Indeed, it ain't no man. It's an alien from outer space that has traveled to earth to hunt humans for sport.
While it is marketed as a sci-fi horror film, Predator is basically just an action flick with well-crafted action sequences from director John McTiernan. Predator became a launching pad for several actor/politicians. Schwarzenegger famously got himself elected Governor of California, and Jesse Ventura was elected Governor of Minnesota in 1998. Additionally, Sonny Landham ran an unsuccessful campaign for Governor of Kentucky in 2003. Coincidence? We're convinced the predator had connections.
Portions from Freebase, licensed under CC-BY and Wikipedia licensed under the GFDL