Romancing the Stone (1984)
Description
[from Freebase]
Romancing the Stone is a 1984 American action-adventure romantic comedy. Directed by Robert Zemeckis, it stars Michael Douglas, Kathleen Turner and Danny DeVito. The film was followed by a 1985 sequel, The Jewel of the Nile. The film earned over $86,572,238 worldwide in box-office receipts and an additional $36 million in video rentals. It also helped launch Turner to stardom, reintroduced Douglas to the public as a capable leading man, and gave Zemeckis his first box-office success. A remake of the film is under development Joan Wilder (Kathleen Turner) is a lonely New York romance novelist who receives a treasure map mailed to her by her recently-murdered brother-in-law. Her widowed sister, Elaine (Mary Ellen Trainor), calls Joan and begs her to come to Cartagena, Colombia, because Elaine has been kidnapped by bumbling antiquities smugglers Ira (Zack Norman) and Ralph (Danny DeVito), and the map is to be the ransom. Hastily flying to Colombia, Joan is detoured from the rendezvous with Ralph by Colonel Zolo (Manuel Ojeda), the man who killed Elaine's husband. Joan ends up in the jungle and is almost killed by Zolo, but is saved by the swashbuckling American bird exporter Jack T.
Review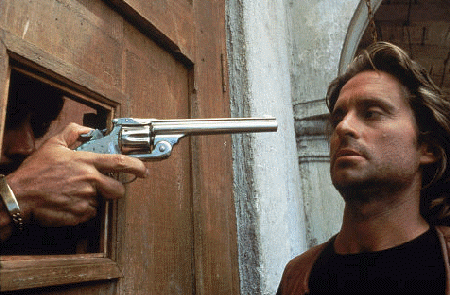 1984 was hardly an Orwellian year when it came to the movies. What was tops at the box office? Big, gaudy, genre-blending Hollywood stuff like Ghostbusters, Beverly Hills Cop, and Gremlins. #7 on that list, with $75 million in the bank, was Romancing the Stone, a movie that inspired dozens of imitators as it launched a genre of films about reluctant heroines who get caught up in grand adventures: A romance novel come to life (and in fact, Kathleen Turner's character, Joan Wilder, is actually a romance novelist in the film). Everything from Bridget Jones's Diary to Pretty Woman owes a debt to Stone.
On the surface this film doesn't look like it should have been the massive hit that it was: Michael Douglas was best known as a producer and bit player, Turner had starred in only one film of note (Body Heat), and screenwriter Diane Thomas was just a wannabe working in a diner. Douglas hired Robert Zemeckis, a guy who hadn't worked in four years and had never had a hit, to direct the film. This thing wasn't going to be a success.
And yet it was. Stone hit a nerve with both feminists (riding the high point of that movement's wave) and movie fans simply looking for a good time. Its combination of romance and adventure (and a bit of comedy) was spot-on, and few films that have arrived since have captured Stone's enthusiasm and good-naturedness.
The story itself revolves around Wilder's mousy, shut-in novelist, who hears that her troubled sister has been kidnapped. All the kidnappers require is that Joan deliver a treasure map to them… in Colombia. In short order, Joan is lost in the jungle — in high heels, naturally — and it's looking grim. To the rescue comes Jack T. Colton (Douglas), a sort of mercenary living in the jungle there. For a few hundred bucks, he agrees to ferry Joan the few hundred miles to Cartagena, and along the way they decode the secret of the map. Gigantic emerald, anyone?
Full of memorable set pieces (the mud slide, the marijuana bonfire), Romancing the Stone sparkles with nonstop action, despite its wild improbabilities. This is the kind of film where no one gets hit by bullets fired from a dozen machine guns, and the worst thing that happens when you go over a waterfall in a compact car is that you get separated from your companion down at the bottom of the river. Danny DeVito's villain works more as comic relief than as anything we might legitimately be afraid of, though some badder guys do at least wait for us in the end.
Writer Thomas quickly became the toast of Hollywood, then promptly died in a car accident before writing another script. The quickie sequel, The Jewel of the Nile, had little of the charm of the original, though it made a healthy amount at the box office. Kathleen Turner's career slowly faded into self-mocking obscurity over the next two decades. Something about Stone's magic hasn't been recaptured since. I guess that's why we have DVD.
The new special edition DVD includes several deleted scenes and a series of lengthy retrospective featurettes.
Talk to the .45.
Portions from Freebase, licensed under CC-BY and Wikipedia licensed under the GFDL