Description
[from Freebase]
Grease is a 1978 American musical film directed by Randal Kleiser and based on Warren Casey's and Jim Jacobs's 1971 musical of the same name about two lovers in a 1950s high school. The film stars John Travolta, Olivia Newton-John, Stockard Channing, and Jeff Conaway. It was successful both critically and at the box office; its soundtrack album ended 1978 as the second-best selling album of the year in the United States, behind the soundtrack of Saturday Night Fever, another film starring Travolta. A sequel, Grease 2, was released in 1982, starring Maxwell Caulfield and Michelle Pfeiffer and with only a few of the original cast members reprising their roles. In the summer of 1958, local teenager Danny Zuko (John Travolta) and vacationing Sandy Olsson (Olivia Newton-John) meet at the beach and fall in love. When the summer comes to an end, Sandy, who is going back to Australia, worries that they may never see each other again, but Danny tells her that their love is "only the beginning". Later, on the first day of Danny's senior year at Rydell High School, meets with his friends, the T-Birds, who like Danny, are greasers.
Review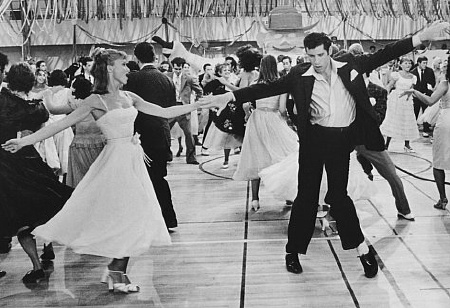 It's the goo they put in their hair.
It's the goo they slather on their hotrod cars.
And, of course, Grease is the word, baby.
One of the most celebrated musicals ever, Grease finally hits DVD to great fanfare from its many ardent fans, many of whom have probably forgotten just how cheesy the movie really is.
For every timeless tune like 'Summer Nights,' 'You're the One that I Want,' and the title track 'Grease,' there's a cheeseball song like 'Greased Lightnin" (song and dance atop a half-built car) or 'Beauty School Dropout' (with Frankie Avalon crooning in an all-white dream sequence).
That said, Grease's memorable numbers far outweigh the bads (although the endless awful renditions of 'Summer Nights' at the nation's karaoke bars almost earn this film a spot on the blacklist). The story of Rydell High's coolest cat, Danny (John Travolta), and its most enigmatic Aussie import, Sandy (Olivia Newton-John), is pretty timeless. He's an aloof greaser. She's a goody-goody. They met on the beach over the summer, and much to Danny's surprise, Sandy shows up for senior year. Sandy falls in with the Pink Ladies, a kind of girl gang opposite Danny's T'Birds. Much schoolgirl drama ensues (with boyfriend stealing and counter-stealing at every turn), all with an appearance on (ahem) National Bandstand up for grabs for the school's greatest hoofers.
Badly edited and despite the movie's numerous attempts to drown itself, Grease manages to come off as charming, despite its Velveeta consistency. Its attempts to deal with serious problems are laughable, but for a movie about dancing, having fun, and doin' the Hand Jive, Grease is totally slick.
The (original) DVD's lone extra (aside from cleaned up sound and video) are retrospective interviews with the principal cast and crew. It isn't surprising: What else does Olivia Newton-John have to do these days, anyway? You also get a cute little hard-copy songbook with most of the song lyrics included.
DVD UPDATE: A new DVD edition (the 'Rockin' Rydell' edition) includes copious extras, like deleted scenes, footage from the launch party/reunion, a sing-along version, and more featurettes, plus comes packaged in an admittedly cool leatherette jacket, complete with zipper. You gotta see it to believe it.
Greased lightnin'!
Portions from Freebase, licensed under CC-BY and Wikipedia licensed under the GFDL