The French Connection (1971)
Description
[from Freebase]
The French Connection is a 1971 American dramatic thriller film directed by William Friedkin and produced by Philip D'Antoni. It starred Gene Hackman, Fernando Rey and Roy Scheider. The film was adapted and fictionalized by Ernest Tidyman from the non-fiction book by Robin Moore. It tells the story of New York Police Department detectives named "Popeye" Doyle and Buddy "Cloudy" Russo, whose real-life counterparts were Narcotics Detectives Eddie Egan and Sonny Grosso. Egan and Grosso also appear in the film, as characters other than themselves. It was the first R-rated movie to win the Academy Award for Best Picture since the introduction of the MPAA film rating system. It also won Academy Awards for Best Actor (Gene Hackman), Best Director, Best Film Editing, and Best Adapted Screenplay (Ernest Tidyman). It was nominated for Best Actor in a Supporting Role (Roy Scheider), Best Cinematography and Best Sound. Tidyman also received a Golden Globe Award, a Writers Guild of America Award and an Edgar Award for his screenplay.
Review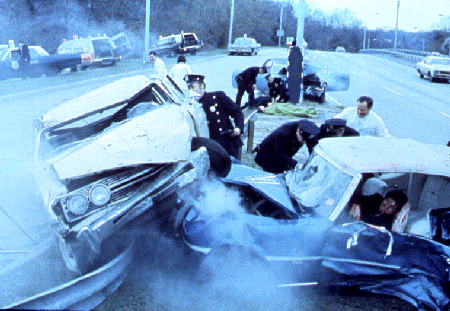 The French Connection puts the majority of contemporary action movies to shame. It proves how potentially smart this genre can be, and how dumb recent action films really are. Unlike many modern-day thrillers, this film is an exciting, taut, and realistic portrayal of urban police life, but it does not fill its running time with gratuitous violence, nonstop profanity, and copious amounts of sex. Character motivation and story drive the film forward–not a needless excess of violent, antisocial behavior. It's a standout cinematic achievement that won five Academy Awards including Best Picture, Best Director, Best Actor (Gene Hackman), Best Film Editing, and Best Writing.
Ernest Tidyman's story follows the adventures of two New York narcotics cops, 'Popeye' Doyle (Hackman), and his partner, Russo (Roy Scheider). They track a lead about a large drug delivery that develops into a plan that could entirely destroy the marijuana trade between Paris and New York.
The movie contains convincing, memorable action sequences. In an unexpected, timely scene, Doyle walks down the street when suddenly a sniper hiding on top of his apartment opens fire. The sniper misses and hits an innocent bystander. Doyle finds cover behind a tree. More pedestrians rush to care for the injured victim. Doyle tells them to run. This sequence convinces us that the threat of the sniper is real, which leads us to one of the most thrilling chase scenes in film history.
Most modern action scenes involve massive gunfire from both the good and the bad. It's almost as if the bullets have read the screenplay, hitting their targets only at the plot's discretion. The French Connection gives us convincing situations without the plot contrivances and predictable shoot-outs. The story flows smoothly because everything that happens is character driven.
Recent action movies contain special effects that make The French Connection look like child's play. Nowadays, a film can contain enormous explosions, amazing car chases and crashes, impressive computer generated images, and enough gunfire to impress the Army. But it's not the special effects that make The French Connection a true classic, it's the quality of the performances, the enticing direction by William Friedkin, the brilliant editing, and the intensity and selectivity of the action sequences. Today's filmmakers can throw almost anything into their movies, but there's one thing that they often forget that The French Connection hits right on the nose: action itself doesn't drive a story forward, character does. In today's world, that's almost a novelty.
The double-disc DVD and Blu-ray collections contain more Connection arcana than most can fathom, supplying an exhaustive amount of detail about the production (those car chases were shot in real traffic, folks) and its stars (the real cops on whom the film is based appear in small roles). I learned a lot in watching the deleted scenes, documentaries, and various commentary tracks — seeing how low-budget the production actually was gives you a new respect for the film.
One missed connection.
Portions from Freebase, licensed under CC-BY and Wikipedia licensed under the GFDL