Description
[from Freebase]
Cool Hand Luke is a 1967 American prison drama film directed by Stuart Rosenberg and starring Paul Newman. The screenplay was adapted by Donn Pearce and Frank Pierson from Pearce's 1965 novel of the same name. The film features George Kennedy, Strother Martin, J.D. Cannon and Morgan Woodward. Newman stars in the title role as Luke, a prisoner in a Florida prison camp who refuses to submit to the system. In 2005, the United States Library of Congress deemed Cool Hand Luke to be "culturally, historically, or aesthetically significant" and selected it for preservation in the National Film Registry. Lucas Jackson (Paul Newman) is arrested for cutting the heads off a small town's parking meters one drunken night in the early 1960's. He is sentenced to two years in prison and sent to a Florida prison camp, run by the heartless Captain (Strother Martin). Luke is revealed to be a decorated Korean War veteran. The screen play and the scene's direction begins the introduction and exposition of the uniqueness of his character to this setting, by the reaction to the reading of the record of inmate Lucas Jackson.
Review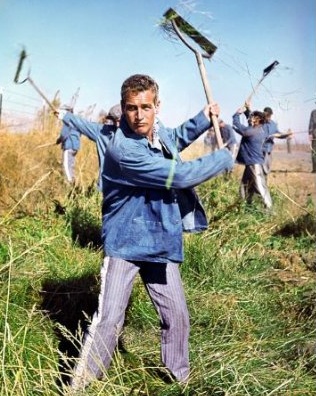 A half-dozen months after its 40th anniversary and just over a year after it's star's for-real-this-time retirement from acting, Stuart Rosenberg's Cool Hand Luke still stands as the quintessential cool movie, despite its reality. That is to say: The lines and the character have survived the film's oft-forgotten actual message.
I surmise that summary is an act of redundancy but let's do it one more time for the cheap seats. The man is introduced as Lucas Jackson (Paul Newman), a Vietnam vet who takes to cutting heads off parking meters while on a bender. Sent to a hotter-than-a-smokehouse prison camp in the south (it was mainly shot near and around San Joaquin and Stockton, California), Lucas has the smirk of a troublemaker but doesn't show his hand til a solid 30 minutes in. It's a boxing match between Luke and alpha-con Dragline (the great George Kennedy) that queues up the prisoners, the guards, and the Captain (Strother Martin, pure menace), proving that Luke may be the true pied piper of the prison camp. Even with his drunken mother, a role originally offered to Bette Davis that eventually went to Jo Van Fleet, the con's cocky grin cannot be dissuaded.
The scenes are monuments of pure rebellion and every single one has a line: 'She knows exactly what she's doin',' 'Nobody can eat fifty eggs,' 'I'm shaking, boss!,' 'What we've got here is a failure to communicate,' 'He grins like a baby but bites like a gator.' Besides the fraternal bonding, the chronicles of Cool Hand Luke's ('Sometimes 'nothing' can be a real cool hand') escapes and returns are peppered with nods to the restlessness of America, the Vietnam War and, ultimately, the paradox of being cool for no good reason.
Like its obvious brother-in-law One Flew Over the Cuckoo's Nest (and to a lesser extent, John Schatzberg's unheralded classic Scarecrow), Cool Hand Luke is unencumbered by plot mechanics and would seem like a string of vignettes if Rosenberg hadn't let it all ride on Newman. The constant cool, Newman, at the peak of his form, shook off metaphor and coerced Luke into a realm not of wild indignation, like Nicholson's McMurphy or Hackman's Max Millan, but a force of inebriated sedition. Cool Hand's goal never seems to be rebellion, but he permeates with it. He just wants some reckless fun, and that's swallowing 50 eggs when you're stuck in a prison camp.
The film, produced by the Jack-Lemmon-owned Jalem Productions, is a character study where the character remains elusive, a trick that somehow emerged in cinema on January 1, 1960 and dissipated as soon as New Year's Day, 1970 hit. Rosenberg never had another major hit, although two years later he directed The April Fools, the American premiere of an actress named Catherine Deneuve. In Luke, one can see a young Dennis Hopper and Harry Dean Stanton amongst the inmates but Newman's only real co-star is Kennedy, who won the film's only Oscar. Kennedy plays Dragline with a bellowing laugh to hide his fear (and deep love) of Luke. Dragline had followed a code of hushed disobedience. He can't help but fall for the real thing. The straight man role suits Kennedy: He would later play it again against Leslie Nielson's meta-moronic Lt. Frank Drebin in the Naked Gun series.
But what is Cool Hand Luke if not the study of Paul Newman taking the reins of Hollywood from its snobby elite. Surrounded by liberal blowhards that touted the same causes he did at ten times the decibel level, the then 42-year-old was the one who never had to raise his voice off camera. The constant comparisons of George Clooney to the now 83-year-old should be obvious. Newman already had a name by the time the film came out, after The Hustler, Sidney Lumet's Exodus, and Alfred Hitchcock's Torn Curtain, but Cool Hand Luke was what made Newman the unassailable vibe of mellow insurgency.
The new DVD adds a commentary track and a making-of documentary.
Still shakin' it, boss.
Portions from Freebase, licensed under CC-BY and Wikipedia licensed under the GFDL