Description
[from Freebase]
Goldfinger is the third spy film in the James Bond series and the third to star Sean Connery as the fictional MI6 agent James Bond. Released in 1964, it is based on the novel of the same name by Ian Fleming. The film also stars Honor Blackman as Bond girl Pussy Galore and Gert Fröbe as the title character Auric Goldfinger, along with Shirley Eaton as famous Bond girl Jill Masterson. Goldfinger was produced by Albert R. Broccoli and Harry Saltzman and was the first of four Bond films directed by Guy Hamilton. The film's plot has Bond investigating gold smuggling by gold magnate Auric Goldfinger and eventually uncovering Goldfinger's plans to attack the United States Bullion Depository at Fort Knox. Goldfinger was the first Bond blockbuster, with a budget equal to that of the two preceding films combined. Principal photography occurred from January to July 1964 in the United Kingdom, Switzerland and the American states of Kentucky and Florida. The release of the film led to a number of promotional licensed tie-in items, including a toy Aston Martin DB5 car from Corgi Toys which became the biggest selling toy of 1964.
Review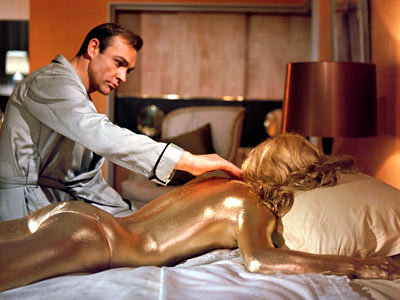 If you only have time in your life to see a single James Bond movie, this is the one. Goldfinger has it all: the monomaniacal arch villain, his nefarious plot, the gorgeous temptress, the dangerous henchman, the gadgets, the cars, the ejector seat, the witty banter, Miss Moneypenny, and, of course, Bond, James Bond, as portrayed by the great Sean Connery at the height of his powers.
In this third outing in the now almost 50-year-long series, Bond finds himself at the luxurious Fontainebleau Hotel in Miami, puzzling over the death of a lovely young lady who has been killed by gold paint asphyxiation. It's clearly the work of Auric Goldfinger (Gert Fröbe), whom Bond is assigned to shadow across Europe. It won't be easy, not only because Goldfinger's bodyguard is the ominous Odd Job (Harold Sakata), whose bowler hat is lethal when hurled like a Frisbee, but also because Goldfinger's plan is wildly elaborate and convoluted, a fact he reveals once he has Bond strapped to a table. Preparing to die by laser beam to the groin, Bond asks famously, 'Do you expect me to talk?' 'No, Mr. Bond,' Goldfinger more-famously replies. 'I expect you to die.'
Bond escapes that very touchy predicament only to be kidnapped by Goldfinger and his mannish yet voluptuous colleague, Pussy Galore (Honor Blackman). 'My name is Pussy Galore,' she says to Bond. 'I must be dreaming,' he smirks. Once at his secret American lair, Goldfinger explains his plan — complete with scale models and audio-visual aids — to a gathering of Mafia bosses immediately prior to killing them all with poison gas (begging the question: Why bother explaining the plan to them?). Then he puts the Fort Knox scheme, Operation Grandslam, into effect. It will be up to Bond to subdue Pussy (and straighten out her Sapphic tendencies), kill Odd Job, capture Goldfinger, defuse an atomic bomb, and save the world before the movie ends. All in a day's work for 007.
It's worth noting that the majority of the Goldfinger screenplay is included in the film's IMDB listing of 'memorable quotes.' Fair enough. Almost every line is a gold-plated gem, and even if you've never seen the movie, you'll feel like you have because it contains excellent examples of every Bondian trope that has since echoed down through many years and many films. Basically, what we have here is a classic of its kind, a film well deserving of Filmcritic.com's highest rating.
To echo what so many women have moaned in ecstasy through the years, 'Oh, James!'
Don't miss the DVD commentary track, it's incredibly insightful: I had no idea that Gert Fröbe spoke no English and was completely dubbed over.
Bond #3.
Now that's rich.
Portions from Freebase, licensed under CC-BY and Wikipedia licensed under the GFDL