Description
[from Freebase]
West Side Story is a 1961 musical film directed by Robert Wise and Jerome Robbins. The film is an adaptation of the 1957 Broadway musical of the same name, which in turn was adapted from William Shakespeare's play Romeo and Juliet. It stars Natalie Wood, Richard Beymer, Russ Tamblyn, Rita Moreno and George Chakiris and it was photographed by Daniel L. Fapp, A.S.C., in Super Panavision 70. The film's opening sequence was shot on the streets of New York City, mainly in the area where the Lincoln Center for the Performing Arts campus of Fordham University now stands. Veteran director Robert Wise was chosen as the director and producer because of his familiarity with urban New York dramas, such as Odds Against Tomorrow. Wise had never directed a musical before and when it was suggested that Jerome Robbins, who had directed the stage version, be brought in to handle all the music and dance sequences in the film, Wise agreed.
Review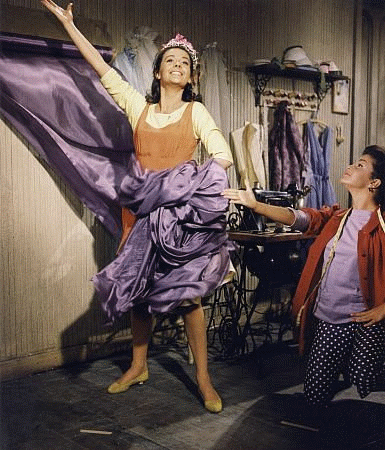 It's hard to feel manly watching West Side Story. Really hard. And that's strange, because it's about two groups of murderous street gangs (one white, one Puerto Rican) in New York City. I guess it's the dancing, the pastel outfits, and the really tight pants that make it seem so frilly.
I kid, of course. Among movie musicals, West Side Story ranks in the top five in greatness, and it's arguably the most popular musical ever released. It may be awfully frou-frou — and let's face it, the dance numbers are awfully similar — but West Side Story has a tale as timeless as its source material (Romeo and Juliet) and countless songs that have become musical classics. 'Maria,' 'America,' 'I Feel Pretty,' 'Tonight' — you can probably hum these without even thinking about it.
Maria (Natalie Wood) and Tony (Richard Beymer) are the star-crossed lovers in this tale — she the sister of a Puerto Rican Shark, he a grudging member of the Jets. They don't come from wealthy, feuding families, but from racial groups deeply resentful of one another. Their big love scene plays out on a fire escape instead of a villa balcony.
Tapping into its era of unrest, West Side Story really touched a nerve at the time at was released (1961) and continues to be reasonably socially relevant 40 years later.
Even better are the aforementioned musical numbers, which have become showtune standards, meriting appearances in Monty Python spoofs and Gap commercials alike. The dance is unfortunately fairly forgettable, the kind of ballet-inspired twirling and toe-pointy leaping that's hard to get jazzed about. The studio-set orange skies make the otherwise gritty reality of the story feel silly; it would have been more successful to film the entire movie on location in real NYC streets.
The nitpicks are minor though, as West Side Story is carried completely on the strength of its music. The film won 10 Oscars, including a number of acting awards that don't make a lot of sense (George Chakiris over Jackie Gleason in The Hustler???), but it's one of those runaway sensation films that just don't come along that often. One prays that the tepid Chicago doesn't merit the same treatment come 2040.
The new West Side Story DVD is a boxed set with some unprecedented extras. A new hour-long retrospective interviews the surviving cast members and filmmakers, and the various trailers over the years (including reissues, etc.) are worth a peek. The real keeper, though, is the full screenplay (complete with blue and pink revision pages) and other promotional material, which come in a printed book that's as thick as the DVD case. The only thing lacking is direct access to the songs in the film, but I guess even in 'America' you can't get everything.
She feels pretty.
Portions from Freebase, licensed under CC-BY and Wikipedia licensed under the GFDL