Description
[from Freebase]
Breathless (French: À bout de souffle; literally "at breath's end") is a 1960 French film directed by Jean-Luc Godard, and Godard's first feature film. It was one of the first and most influential films of the French New Wave. At the time, the film attracted much attention for its bold visual style and the innovative use of jump cuts. Breathless, together with François Truffaut's The 400 Blows and Alain Resnais's Hiroshima, Mon Amour, both released a year earlier, brought international acclaim to the French nouvelle vague. A fully restored version of the film was released in the U.S. for the 50th anniversary of the film in May 2010. When originally released in France, the film had 2,082,760 cinema goers. Michel (Jean-Paul Belmondo) is a young petty criminal who models himself on the film persona of Humphrey Bogart. After stealing a car in Marseille, Michel shoots a policeman who has followed him onto a country road. Penniless and on the run from the police, he turns to his American girlfriend Patricia (Jean Seberg), a student and aspiring journalist, who sells the New York Herald Tribune on the streets of Paris.
Review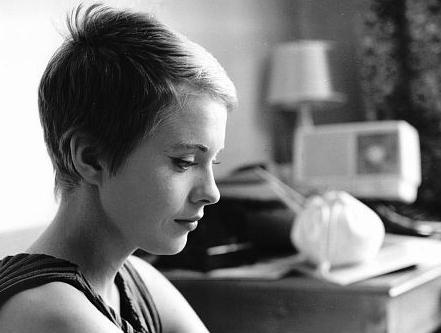 It's fun on the run in this film, which most say launched the French New Wave with its spontaneous, rollercoaster ride across France. Jean-Paul Belmondo and Jean Seberg are boyfriend/girlfriend (in the loosest possible way)… and after he kills a policeman (at the very start of the film), it's obvious that at least one of them is doomed. But how will it all come down?
Jean-Luc Godard's panicked style here continues to inspire filmmakers today, and even if some of Breathless remains inaccessibly arty and obtuse, it's nonetheless a film of watershed importance. Godard has no qualms about chopping up a scene of someone running across the street so that they start on one side of the sidwalk, then magically appear on the other side, lending the movie a breakneck pacing that lends the film its name. (Some prefer the translation 'Out of Breath' over 'Breathless.')
This would all be for naught if the actors didn't carry their weight. Belmondo is perfectly cast in what is now recognizable as a stereotypical French hipster role, never far from a cloud of smoke, sunglasses, and perpetually looking for someone who owes him money, But it is Seberg who all but steals the show as the pixie American in Paris, a quirky beauty who Belmondo intones, 'looks like a Martian.' She's given ample screen time, often filling the entire frame with her face. Martian, indeed.
Criterion pulls out all the stops with this DVD release, two discs of material with a restored print, old interviews galore with the cast and crew, and new video interviews and essays galore. An 80-minute making-of documentary about the film is the highlight of the second disc, along with a Godard short. A hefty book of printed material rounds out this exhaustive set.
Aka À bout de souffle.
Not from Venus.
Portions from Freebase, licensed under CC-BY and Wikipedia licensed under the GFDL