Description
[from Freebase]
Some Like It Hot is an American romantic screwball comedy film, made in 1958 and released in 1959, which was directed by Billy Wilder and starred Marilyn Monroe, Tony Curtis, Jack Lemmon and George Raft. The supporting cast includes Joe E. Brown, Pat O'Brien, Joan Shawlee and Nehemiah Persoff. The film is a remake by Wilder and I. A. L. Diamond of a 1935 French movie, Fanfare d'Amour, from the story by Robert Thoeren and Michael Logan, which was also remade in 1951 by German director Kurt Hoffmann as Fanfaren der Liebe. However, both the French and German films were without the gangsters that are an integral part of the plot of Some Like It Hot. Wilder's working title for his film was Fanfares of Love, then Not Tonight, Josephine before he decided on Some Like It Hot as its release title. During 1981, after the worldwide success of the French comedy La Cage aux Folles, United Artists re-released Some Like It Hot to theatres. In 2000, the American Film Institute listed Some Like It Hot as the greatest American comedy film of all time. Two struggling musicians, Joe and Jerry (Tony Curtis and Jack Lemmon), witness the Saint Valentine's Day massacre of 1929.
Review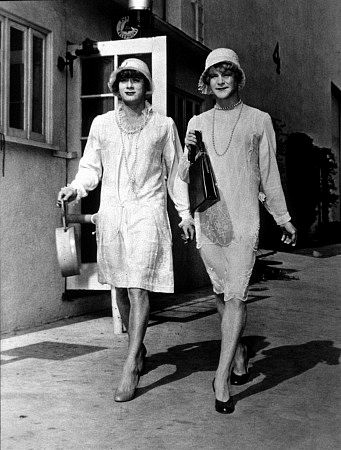 'Nobody's perfect,' as Joe E. Brown's Osgood memorably utters, thus finishing off one of Hollywood's greatest screwball comedies. And indeed, Some Like It Hot is far from a perfect film. But Billy Wilder took what might have been a rather banal story line and juiced it up into classic territory by squeezing Monroe, Curtis, and Lemmon into dresses and giving them some of the wittiest one-liners on film.
To be sure, Tony Curtis thinks he looks like Cary Grant in his sailor uniform but he really looks more like Charles Nelson Reilly, and Marilyn is visibly, obviously trashed out of her gourd for the entire picture, but hey, it was fun in the sun at the Hotel Del Coronado in the Prohibition era, and even the mob on their collective tails can't put a dent in the fun.
Okay, in all seriousness, the new release of Some Like It Hot on DVD is something any classic film collector will want to snap up, and while there are few extras on the disc, Curtis spends a half hour with Leonard Maltin discussing the movie, Marilyn, the dresses, and plenty more. The most surprising thing: 40 years later, Curtis doesn't really look a day older.
Yoiks!
Hot to trot.
Portions from Freebase, licensed under CC-BY and Wikipedia licensed under the GFDL