Description
[from Freebase]
Paths of Glory is a 1957 American anti-war film by Stanley Kubrick based on the novel of the same name by Humphrey Cobb. Set during World War I, the film stars Kirk Douglas as Colonel Dax, the commanding officer of French soldiers who refused to continue a suicidal attack. Dax attempts to defend them against a charge of cowardice in a court-martial. Cobb's novel had no title when it was finished, so the publisher held a contest. The winning entry came from the ninth stanza of the famous Thomas Gray poem "Elegy Written in a Country Churchyard". "The boast of heraldry, the pomp of pow'r, And all that beauty, all that wealth e'er gave, Awaits alike th'inevitable hour. The paths of glory lead but to the grave." The book was a minor success when published in 1935, retelling the true-life affair of four French soldiers who were executed to set an example to the rest of the troops. The novel was adapted to stage the same year by Sidney Howard, where it played on Broadway as Paths of Glory. The play was a flop because of its harsh anti-war scenes that alienated the audience; Howard was a WWI veteran and wanted to show the horrors of war.
Review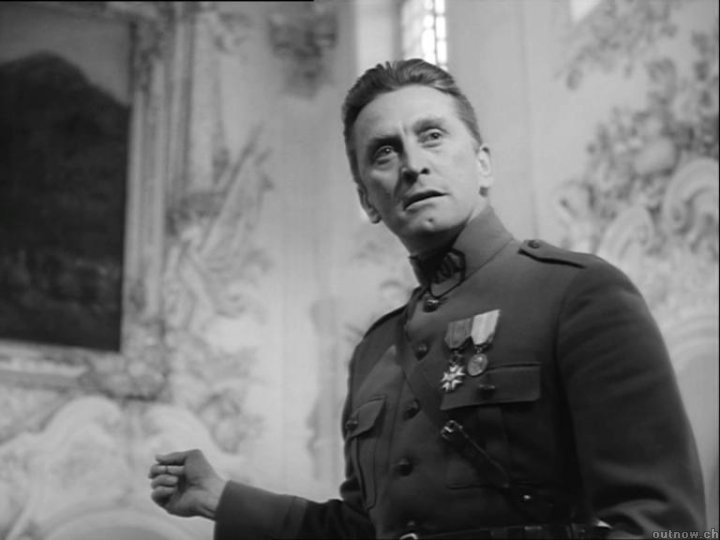 Brilliant study into the nature of cowardice and the pathetic nature of the modern (well, in 1957) military machine. Vehemently anti-war, Kubrick takes us on a this-can't-be-happening ride, as French soldiers fail in their mission to take a certain hill from the enemy. A court martial ensues, with devastating results.
One of Kubrick's best works, and one that has been seen by relatively few. Also one of Kirk Douglas's best roles ever. Banned on its release due to its obviously seditious nature throughout dozens of countries, now is the time to rediscover this gem.
Portions from Freebase, licensed under CC-BY and Wikipedia licensed under the GFDL