Review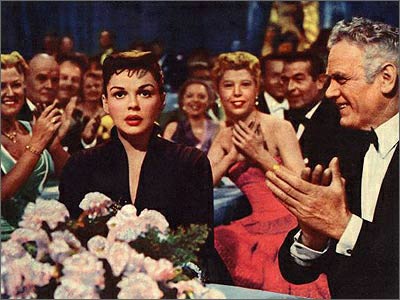 A Star Is Born has been remade so many times it has become Hollywood's version of a retold myth. For anyone who just got off the bus, the story of A Star Is Born is the hoary old chestnut concerning a famed matinee idol movie star who falls in love with an up-and-coming actress. As her career skyrockets, his career crashes in a haze of alcoholism and suicide.
The original A Star Is Born was a 1937 David O. Selznick production with a Dorothy Parker screenplay. Directed by William Wellman and starring Janet Gaynor and Fredric March, the film was a vitriolic and stark Hollywood satire. It was later remade in the 1970s into a lamentable Barbra Streisand vehicle. But we are talking here about the best version of the legendary tale — i.e. the Judy Garland vehicle from 1954.
The 1954 version, scripted by Moss Hart and directed by George Cukor, was put together by Judy Garland's then-husband Sid Luft as an ornate comeback vehicle for the famed entertainer who, four years earlier, was summarily dismissed from the lead role in MGM's Annie Get Your Gun for erratic behavior on and off the set and who spent the intervening years recovering from various binges and suicide attempts. So, while the film was positioned as a star's celebratory return, given the plot and the not-so-secret Hollywood knowledge of Garland's emotional problems, it became instead a self-referential psychodrama with music.
Given both the pre- and postA Star Is Born history of Garland, the film is awash in complex subtexts. Garland plays Esther Blodgett/Vicki Lester, the up-and-coming star, as the old Good Judy — the massively talented but naive entertainment dynamo. But Garland is also embodied in the self-destructive alcoholic Norman Maine (James Mason) as the Bad Judy, the emotionally free-falling human car wreck, the actor hitting the skids in Vicki Lester's wake. In a scene where Vicki breaks down in clown makeup and asks benign studio head Oliver Niles (Charles Bickford) in a desperate, pained voice, 'What is it that makes Norman want to destroy himself?' the similarities to her own blighted off-screen life are close enough to make one squirm.
But all of that is just a disturbing freak show undercurrent to a film that boasts Garland's greatest performance. Her 'Born in a Trunk' production number captures her showbiz intensity and her jittery humor is succinctly captured in 'Somewhere There's a Someone,' a neat and nasty parody of the pretentious MGM musical production numbers of that era. But if ever an Oscar could have been bestowed upon a performer for one musical number, it should have been for Garland's electrifying rendition of 'The Man That Got Away.' Utilizing the teetering emotionalism of her voice and the edgy gestures of a crack-up, Garland's off-the-cuff jazz club take on the Harold Arlen-Ira Gershwin tune is as raw-bonded and unforgettable as a spinal tap.
This is not to downplay James Mason's intense performance as Norman Maine. Suave and sardonic and at ease even when in an alcoholic haze, Mason gives an excruciatingly believable, gut-wrenching performance.
A Star Is Born was one of the early Cinemascope productions. Cukor is clearly uncomfortable with the format, awkwardly balancing most of the widescreen frame with palm trees, lampshades, automobile windshields and mirrors. Creative framing kicks in only during his Cocoanut Grove Academy Award ceremony where a nicely-framed shot of Vicki Lester's table with Garland on the right and an empty chair (and frame space) on the left accentuates the absence of her husband Norman. There is also a brilliantly composed shot of Vicki accepting her Oscar, and she is seen dwarfed in center background while a television camera tracks in.
The film was originally released at 181 minutes but cut drastically after the premiere to 154 minutes. In the early 1980s, film historian Ronald Haver mounted a personal campaign to restore the missing footage. By 1983, Haver's restoration of the film at 176 minutes received, but much of the restoration consists of audio tracks matched up against stills from sequences where, presumably, the visuals were lost. Although intrusive to the flow of the film, the sequences greatly enhance the narrative thread.
A Star Is Born is a one-of-a-kind musical — a big budget, widescreen DSM-IV case study with music. Even Sondheim couldn't top that.