Singin' in the Rain (1952)
Description
[from Freebase]
Singin' in the Rain is a 1952 American musical comedy film starring Gene Kelly, Donald O'Connor and Debbie Reynolds and directed by Gene Kelly and Stanley Donen, with Kelly also providing the choreography. It offers a lighthearted depiction of Hollywood, with the three stars portraying performers caught up in the transition from silent films to "talkies." The film was only a modest hit when first released, with O'Connor's Best Actor win at the Golden Globes and Comden and Green's win at the Writers Guild of America Awards being the only major recognitions. However, it was accorded its legendary status by contemporary critics. It is now frequently described as one of the best musicals ever made, topping the AFI's 100 Years of Musicals list, and ranking fifth in its updated list of the greatest American films in 2007. Don Lockwood (Gene Kelly) is a popular silent film star with humble roots as a singer, dancer and stunt man. Don barely tolerates his vapid, shallow leading lady, Lina Lamont (Jean Hagen), though their studio, Monumental Pictures, links them romantically to increase their popularity. Lina herself is convinced they are in love, despite Don's protestations otherwise.
Review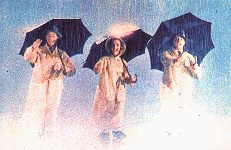 Being a child of Star Wars and Pretty in Pink, it's usually hard for my generation to appreciate frou-frou musicals.
Not so with Singin' in the Rain, probably the best musical ever made and 50 years after its original production, its special edition DVD proves it's just as great now as when it was originally produced. If somebody doesn't like this movie, they're either dumb, dead, or both.
Put simply, they just don't make movies like this anymore, movies where the cast and crew are clearly in love with the project. (Director Baz Luhrmann came close with Moulin Rouge. Incidentally, he pontificates on Rain's DVD commentary track with emcee Debbie Reynolds, Donald O'Connor, Cyd Charisse, Stanley Donen, and a few others.) The story, of course, was dated from the get-go, intentionally so: In the 1920s, Monumental Pictures is a huge success thanks to its leading man Don Lockwood (Gene Kelly) and his co-star/best gal Lina Lamont (Jean Hagen). All's well until a little movie called The Jazz Singer rolls along, bringing with it the era of the talkies. The only problem: Lina's Jersey accent is so thick and abrasive no one can bear to be in a room with her, much less a movie audience. (Actually, she sounds a lot like Baz Luhrmann.) She can't really act, either, but the silents have hidden it up until now.
Sensing doom, Don and his pal Cosmo (Donald O'Connor, who all but steals the show as the movie's comic relief) press the studio to reinvent their latest film as a musical, pioneering the dub by enlisting the talented Kathy (Debbie Reynolds) to sing in Lina's place. And naturally, Don and Kathy swoon for one another despite sparring early on.
Despite a couple of song and dance numbers that run a little long, little detracts from the mastery of Singin' in the Rain. Choreographed without the benefit of a dozen cuts per second (paying attention during that commentary, Baz?), the movie reminds us of a time when the jump cut wasn't necessary to hide the fact that models, pop stars, and sports figures were masquerading as actors.
Part of American — nay, world — culture (see A Clockwork Orange), the movie is alternately funny and hilarious. The physical humor, with O'Connor crashing through walls and messing with his face, gets a giggle, but the dazzling script from Betty Comden and Adolph Green reminds us just how sophisticated the movie's humor is.
The disc two documentaries are worth a look, but the pristinely restored sound and video on the main event make this DVD an absolute must-own. Our highest recommendation.
…and gettin' wet…
Portions from Freebase, licensed under CC-BY and Wikipedia licensed under the GFDL