Description
[from Freebase]
All About Eve is a 1950 American drama film written and directed by Joseph L. Mankiewicz, based on the 1946 short story "The Wisdom of Eve", by Mary Orr. The film stars Bette Davis as Margo Channing, a highly regarded but aging Broadway star. Anne Baxter plays Eve Harrington, a willingly helpful young fan who insinuates herself into Channing's life, ultimately threatening Channing's career and her personal relationships. George Sanders, Celeste Holm, Hugh Marlowe, Barbara Bates, Gary Merrill and Thelma Ritter also appear, and the film provided one of Marilyn Monroe's earliest important roles. Praised by critics at the time of its release, All About Eve was nominated for 14 Academy Awards (a feat unmatched until the 1997 film Titanic) and won six, including Best Picture. As of 2012, All About Eve is still the only film in Oscar history to receive four female acting nominations (Davis and Baxter as Best Actress, Holm and Ritter as Best Supporting Actress). All About Eve was selected in 1990 for preservation in the United States National Film Registry and was among the first 50 films to be registered. All About Eve appeared at #16 on AFI's 1998 list of the 100 best American films.
Review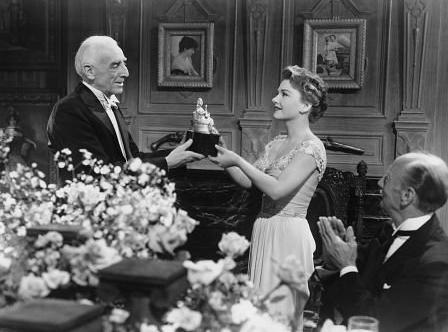 Many people know All About Eve from its famous (and often misquoted) line: 'Fasten your seat belts, it's going to be a bumpy night.' Guess what? There are a whole bunch of other lines in this superb movie which sound like the greatest hits of the Algonquin Round Table. You don't see movies that are so smart and so fun very often, but in this era of Larry the Cable Guy, what would be the point?
The 1950 classic takes place on Broadway, where Margo Channing (Davis) is its biggest star. Eve Harrington (Anne Baxter) is her biggest fan. The young secretary and war widow is at every performance of Channing's play, often standing outside waiting for seats. Eve, always wearing the same trench coat and floppy hat, catches the attention of Margo's friend, Karen (Celeste Holm), who introduces Eve to her idol.
Margo, a diva extraordinaire, is won over by Eve's appreciation and her emotional life story, which has 'everything but the hounds snapping at her rear end.' For Eve, being part of the creative process has always been with her. As a girl, she would play pretend, and 'the unreal seemed more real to me.' Margo offers Eve a place to stay and a job as her assistant, both of which a grateful Eve accepts.
What starts as an ideal hire for Margo soon becomes tempestuous. Margo, the star on- and offstage, is convinced that her longtime boyfriend and director (Gary Merrill) has an interest in the much-younger Eve. Margo's jealousy begins a prolonged and subtle struggle: Margo, 40, is in the twilight of her career; Eve is 24, eager to please, and has more savvy than her background suggests. All that and she's caught the acting bug. This conflict gives writer/director Joseph L. Mankiewicz the opportunity to plumb the depths of Margo's emotions, as she confronts her mortality as an actress and as a woman. Davis gives a brilliant performance, alternately grand and introspective and always riveting.
Mankiewicz doesn't just offer Davis a chance to let loose, which is why All About Eve is such a tasty, nasty film. Every character has an issue with Margo, who's been riding high for so long. Aside from Margo's mid-life crisis, we see how the appearance of the next bright starlet corrupts everyone — from good friends like Karen to theater critic Addison DeWitt (Oscar winner George Sanders, who is phenomenal; he's like George Bernard Shaw crossed with Dr. Evil). As Eve becomes more successful — she proves to be quite the actress — we start seeing a different side of her, one that is remote from her aw-shucks introduction. Mankiewicz's script transitions to each segment so effortlessly, you never see the seams. From that, the motives, the barbed one-liners, and the conniving antics fall right into place. Screenwriting students, you have your Bible. Movie lovers, you have a film that is impervious to the rigors of time, not to mention an inspiration for every prime-time soap opera. And you'll finally get that quote right.
It's all she knows.
Portions from Freebase, licensed under CC-BY and Wikipedia licensed under the GFDL