East Side, West Side (1949)
Description
[from Freebase]
East Side, West Side is a 1949 melodramatic crime film, starring Barbara Stanwyck as a wronged wife and Ava Gardner in one of her earliest roles, along with James Mason and Van Heflin. Based on a novel by Marcia Davenport and a screenplay by Isobel Lennart, the film was directed by Mervyn Leroy and distributed by Metro-Goldwyn-Mayer. Wealthy socialite Brandon Bourne (Mason) cannot resist cheating on his faithful wife, Jessie (Stanwyck). He renews an acquaintance with an old flame, Isabel Lorrison (Gardner), who schemes to win him back. Mark Dwyer (Heflin), a former policeman turned journalist, is introduced to Jessie by a young girlfriend of his, Rosa Senta (Cyd Charisse), who also has recently fended off Brandon's advances. Mark is immediately attracted to the married Jessie. He can plainly see, as can her mother, Nora (Gale Sondergaard), and best friend Helen Lee (Nancy Davis), that her marriage to Brandon is shaky at best. One day, when a dead body is discovered, Mark and his friend Lt. Jacobi (William Conrad) from the New York City Police Department must determine whether the victim was murdered by one of the Bournes or by someone else.
Review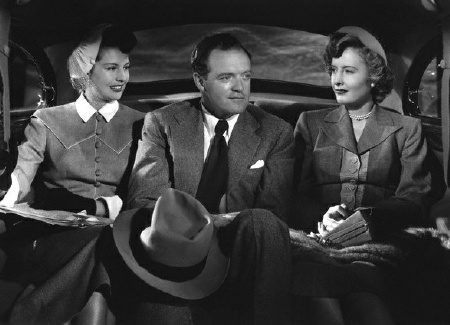 In the early 1930s, director Mervyn Leroy was one of the men responsible for the gritty, careening Warner Brothers house style, but by 1949, Leroy was one of main hack directors for MGM and a prime example of the staid MGM routine is on display in Leroy's prosaic staging of the cad-for-all-seasons East Side, West Side.
Barbara Stanwyck is mistreated high society wife Jessie Bourne, married to Brandon (James Mason), a well-heeled corporate lawyer who is also a regular heel, cheating on Jessie every chance he gets. As Brandon explains his philosophy to a hopeful conquest, 'Just because a man has one perfect rose in his garden at home, it doesn't mean that he can't appreciate the flowers of the field.' Even so, Brandon tries to 'think with his head' but then Ava Gardner breezes in and all bets are off.
Gardner is the sultry, sinuous tigress Isabel Lorrison. Isabel high-tailed it but now she's back in town and her claws are out, intent on wrecking the Bourne marriage. But in spite of Brandon's philandering, Jessie still loves Brandon, and not in an intellectual way either — you can tell that by the way Stanwyck massages the sofa cushion as she talks about him to her nosy friend. It would take something completely out of left field to scare Jessie straight and compel her to kick Brandon downstairs. And that happens with a whiplash-inducing plot development that suddenly involves Brandon in a murder and gives him the once over by NYPD lout William Conrad.
East Side, West Side is so careful with its melodramatic setup of a failed marriage — Jessie's pain even seeping into the nicely displayed MGM bric-a-brac on the expensive sets — that when the murder plot is introduced it is almost as if you are waterboarded into another film.
In East Side, West Side, you have to get your pleasures where you can find them, and if it means wallowing in the MGM star system, so be it. (Where can you find a film today that offers the equivalent of Stanwyck, Mason, Gardner, Heflin, and Charisse? And don't bring up He's Just Not That Into You.) Unfortunately, the film itself is nothing but burnished dreck. But that is to be expected. As Heflin says , 'If you lie down with dogs, you end up with fleas.'
East meets west.
Portions from Freebase, licensed under CC-BY and Wikipedia licensed under the GFDL