The Treasure of the Sierra Madre (1948)
Review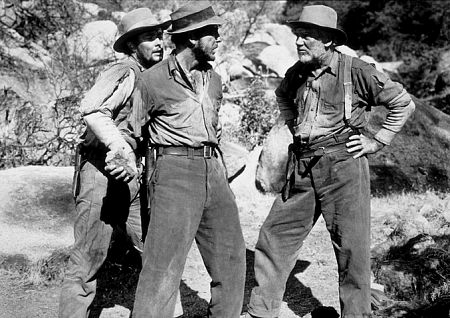 It's too bad that one of the greatest films of all time is remembered for a line ('We don't need no stinkin' badges!') that doesn't appear in the film. (It's actually, 'We don't need no badges. I don't have to show you any stinking badges!' Must be something about Bogart movies and misquoted lines…)
It's also too bad that one of cinema's great adventures is often forgotten as one of cinema's great tragedies, too.
The Treasure of the Sierra Madre at first comes across like a straightforward road adventure: It's the great westward expansion and Mexico stands as the most untamed country in the hemisphere. Fred Dobbs (Humphrey Bogart) is down on his luck, but he and his fellow homeless pal Bob Curtin (Tim Holt) manage to scrape together a few bucks at last. With their small stake, they hook up with an old prospector named Howard (Walter Huston, here being directed by his son John — both father and son won Oscars) and decide to go off into the wilderness to dig for gold. Why not? Happens all the time.
The trip seems ill-fated from the start, because the grumpy Dobbs keeps throwing wrenches in the works. He grouses over the hike. He gripes about when the loot will be split up. And eventually, his overwhelming greed takes complete hold, as he attempts to make off with the loot of all three men. For long stretches you think the obstacles the trio overcome together — including a run-in with those guys who don't need the badges — will create a strong enough bond to trump Dobbs' growing psychosis. But alas, like Hamlet, Dobbs can't escape his destiny. In the end, we're back to where we started, and not without our share of cruel heartache along the way.
Walter Huston is absolutely deserving of his Oscar as he so completely inhabits the role you figure he must have been buried with a pickaxe. But it's Bogie who steals the show back from Huston repeatedly. He's underappreciated here as the bad guy, and that's understandable, but his piercing portrayal of a man at the edge who determines the only way off of it is to stab everyone he meets in the back.
John Huston's directorial work is equally outstanding. Sierra Madre is one of the most lush black & white films ever shot. You'll never look at a gila monster the same way after seeing it slither across the sand in this film. The story (written by Huston) rockets along, alternating between high adventure and subtle melodrama. The mere reading of a note from the home front nearly brings tears to the eyes of even this jaded critic every time.
Now on deluxe DVD, the two-disc edition adds a commentary from Bogart historian Eric Lax, plus tons of archival shorts and newsreel footage. A new documentary chronicles the making of the film, and a lengthy documentary about the career of John Huston bookends the set.
There's gold in that thar movie.