Description
[from Freebase]
A Christmas Carol is a 1938 American film adaptation of Charles Dickens's novelette A Christmas Carol, where Ebenezer Scrooge (Reginald Owen), an elderly miser, learns the error of his ways on Christmas Eve, when he reflects on his past, present and future collectively, whereupon the mean old miser undergoes a radical change of heart and is "awakened" on Christmas morning a changed man. Made by MGM, and originally intended to star Lionel Barrymore, who played the role of Scrooge annually on radio, but was forced to drop out of the film because of his arthritis, the movie starred Reginald Owen as Scrooge and Gene and Kathleen Lockhart as the Cratchits. Terry Kilburn, better known for his portrayal of Colley in Goodbye, Mr. Chips, costarred as Tiny Tim and a young June Lockhart appeared as one of the Cratchit daughters. Leo G. Carroll played Marley's Ghost. The characters of Fred (Scrooge's nephew), and Elizabeth, his fianceé (his wife in the novelette), were greatly expanded in order to work in a romantic angle to the story that Dickens did not intend. The couple was played by Barry MacKay and Lynne Carver.
Review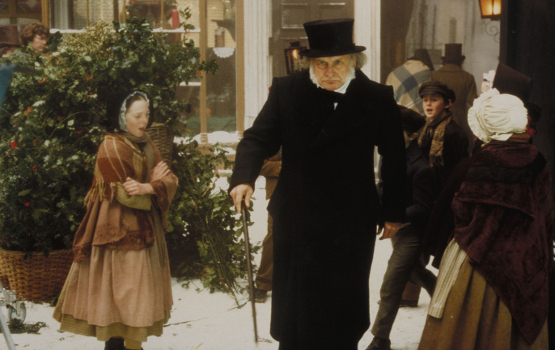 For a film made in 1938, this A Christmas Carol has a lot going for it. In fact, it's probably the most underrated version of the classic Dickens story ever filmed. Reginald Owen is a spot-on Scrooge, making life miserable for his devoted assistant Bob Cratchit (Gene Lockhart). In this version of the story, Cratchit is fired on Christmas Eve due to an ill-timed snowball, but Bob is so irrepressible that he blows his last shilling on delicious foodstuffs for his family, including the wee, crippled Tiny Tim (Terry Kilburn).
That night, a trio of celebrated ghosts arrive and show Scrooge the error of his miserable, stingy, cruel ways — culminating in a visit to the future and his forgotten gravesite. Next morning, our man is cured, tossing out jobs, raises, and goodwill toward men.
At less than 70 minutes long (in keeping with the original material's status as a short story), the film is hardly complex. And that's fine. Here we see a story in a rather pure form — full of drama and (surprisingly) humor. The special effects are even pretty good for the era.
Most viewers will still remember other versions of the film more readily, but this is one worth seeking out 'round holiday time.
Portions from Freebase, licensed under CC-BY and Wikipedia licensed under the GFDL