Snow White and the Seven Dwarfs (1937)
Description
[from Freebase]
Snow White and the Seven Dwarfs is a 1937 American animated film produced by Walt Disney and released by RKO Radio Pictures. Based on the German fairy tale by the Brothers Grimm, it is the first full-length cel-animated feature in motion picture history, the first animated feature film produced in America, the first produced in full color, the first to be produced by Walt Disney Productions, and the first in the Walt Disney Animated Classics series. The story was adapted by storyboard artists Dorothy Ann Blank, Richard Creedon, Merrill De Maris, Otto Englander, Earl Hurd, Dick Rickard, Ted Sears and Webb Smith. David Hand was the supervising director, while William Cottrell, Wilfred Jackson, Larry Morey, Perce Pearce, and Ben Sharpsteen directed the film's individual sequences. Snow White and the Seven Dwarfs premiered at the Carthay Circle Theatre on December 21, 1937, followed by a nationwide release on February 4, 1938. It went on to gross a total of $8 million in international receipts in its opening release. The film was added to the United States National Film Registry as being deemed "culturally, historically, or aesthetically significant" in 1989.
Review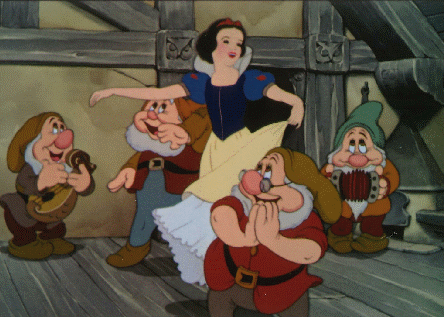 Some films are beyond cynicism. A real classic influences the hearts and minds of audiences, even generations after its creation. Some classics like The Wizard of Oz hold such value that they become indelibly etched in the minds of every American of every walk of life. Disney's Snow White is another such film that has earned that sort of place in our hearts.
Indeed, without Miss White and her band of little men, Disney's moneymaking empire of full-length animated films might never existed. Films that generation after generation of American children has laughed with and cried over might never have been. But Snow White is more than the grandfather of full-length animated films, it is a genuine classic in its own right.
Disney's adaptation of this classic, star-crossed fairy tale manages to transcend cultural and social barriers with an honest and heartfelt story about heartbreak and love. Truthfully, so successful is Disney's version, most people think of nothing else when they think of Snow White (originally a Brothers Grimm fable). And it's high time to once again thrill over the magic and majesty of the film, cringe in terror at the evil deeds of the wicked Queen, and laugh and smile at the antics of the loyal seven dwarfs. Snow White brings together everything into one beautifully rendered (and of course, hand-drawn) package.
However you view the film, Snow White and the Seven Dwarfs must be acknowledged as an icon, its characters standing alongside Dorothy, Superman, and a host of other cinematic creations which have indelibly leave their mark on every aspect of American culture.
The exhaustive two-disc DVD release is a must-see for animation and classic cinema fans, though even the Snow White-obsessed might get a bit burned out after eight or so hours of material. Most interesting are Walt Disney's comments about the making of the film (reconstructed into a commentary track with film historian John Canemaker as well) — his comments about the studio system of the 1930s are quite startling. Regarding the film itself, Disney's comments about difficulties in animating human figures, particularly the prince, explain a lot about how the movie was eventually edited. (And a personal favorite is the wisecracking magic mirror, which pesters you to do something if you leave a DVD menu idling for too long.) Perhaps the biggest surprise is the scariness found on the disc — no, not courtesy of the evil queen, but thanks to Roy Disney, who hosts much of the DVD, impossible well-preserved through the years.
The new 2009 edition adds two Blu-ray discs to the mix, plus a couple of minor new extras.
The could have danced all night.
Portions from Freebase, licensed under CC-BY and Wikipedia licensed under the GFDL