4th and Loud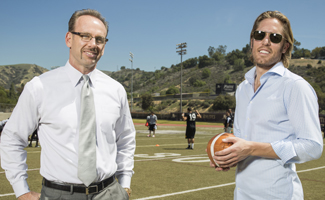 LA KISS president/co-owner Schuyler Hoversten and managing partner/co-owner Brett Bouchy, stars of 4th and Loud, talk about working in the Arena Football League with rock stars Paul Stanley and Gene Simmons.
Q: Have you guys painted your faces, donned black spandex, and joined the KISS Army?
Schuyler Hoversten: No, I became a fan of KISS after having worked for Gene and Paul. And actually, I had never gone to a full-blown KISS concert until the Forum in Los Angeles just a couple of weeks ago. Prior to that, I was just a fan of Gene and Paul. I was just blown away with how they approached business and the entertainment business.
Brett Bouchy: [Schuyler] obviously grew up in a different time than I did. I was born in '69, and my older brother… was a huge KISS fan. I'll never forget in 1979, he went to go see them in concert, and my parents deemed me too young at 10 to go, and I literally thought about running away. My brother called me when they announced their reunion tour, and he said, "Listen, I'm going to get tickets in the first couple of rows, and we're going to fly to Detroit to see the first concert." It was in Tigers Stadium. He talked me into going. It was in 1996, it was sold out, 50,000 people. So I went to that concert, and I'll never forget it. To be working with the guys [in KISS] almost 20 years later is crazy.
Q: How did each of you end up working with the LA KISS? Did you receive a phone call from Paul and Gene, or was it something more formal?
Continue reading "4th and Loud Q&A – Schuyler Hoversten and Brett Bouchy (LA KISS Co-Owners), Part I" »