4th and Loud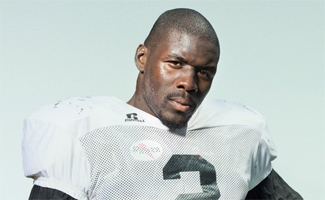 4th and Loud's Beau Bell, starting linebacker for the LA KISS talks about playing with his brother BJ and the bone-shattering hit he laid on the Spokane Shock's quarterback.
Q: LA KISS co-owners Brett Bouchy and Schuyler Hoversten said that you were the first guy they signed to the team. What drew you to the LA KISS? 
A: Honestly, I was already out here coaching, and I thought it would be real fun to play in front of my family and friends; I hadn't played in front of them in 10 years.
Q: You were a coach? Who were you coaching for?
A: Yeah, I'm still coaching the defensive line at Santa Ana College.
Q: It must've been strange having your brother BJ Bell at training camp, trying out for the team alongside you. Was he a welcome addition to camp, or did you find him to be a distraction?
Continue reading "4th and Loud Q&A – Beau Bell (Linebacker)" »