Comic Book Men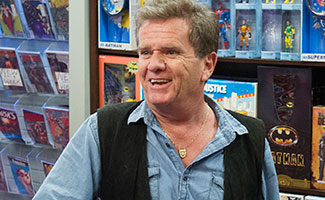 Comic Book Men guest star Butch Patrick talks about his favorite memories from playing Eddie Munster on The Munsters and interesting interactions with fans for over 50 years.
Q: In the episode, you mention that you had wanted to see the Stash for awhile. Did it live up to your expectations?
A: It was awesome, that was a real treat. I have a lot of friends in the area and I had heard about the store, so it was fun to finally see the legendary Secret Stash.
Q: In the episode, Walt confesses that he always wanted Eddie Munster to be his best friend. What is it like to hear that from strangers?
A: You know, I have run across that so many times. One of the most recurring things people say is "I used to run home from school because you were my imaginary family," and "I wanted to be your best friend," so Walt making that statement was cool. But I've actually heard it a bunch of times and it always makes me feel good.
Q: Do you have a TV character that you would like to be friends with?
Continue reading "Comic Book Men – Q&A With Butch Patrick" »