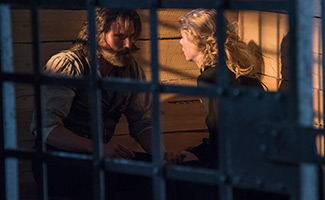 This week, Deadline reports on a new Season 5 cast member, Byron Mann. Plus, Hell on Wheels will be available in the Middle East for the first time starting next month.
• Deadline reports that Byron Mann has joined the Season 5 cast as a series regular, playing a businessman and labor contractor named Chang.
• According to C21 Media, Hell on Wheels will be available next month on Icflix, a Middle Eastern VoD service, giving the drama "its first ever showing in the Middle East and North Africa."
• Paul Rayman talks to British Columbia's The Times Colonist about overseeing a recent Hell on Wheels shoot that involved a tall ship: "It's the show's fifth and final season, so they reach the Pacific, and they came here to shoot some big water."
To stay up-to-date with all the latest Hell on Wheels news, sign up for the weekly Hell on Wheels Telegraph.