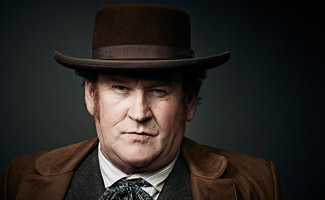 Colm Meaney, who plays Thomas Durant on AMC's Hell on Wheels, talks about the evolution of his character and the relationship between Durant and Eva.
Q: You're now in your fourth season of playing Thomas Durant. In what ways do you think Durant has changed most since the series began?
A: Well, I think it's been a tough journey. He's been battered and bruised, he's been shot and nearly died, he's been broke, he's been in jail — a lot of stuff has happened to him that he probably didn't anticipate. It's been a rough ride, and I think now he's much more realistic about what he can get done. He still has that burning ambition to get the railroad done and get it through, but I think he's aware that it's not as easy as he thought.
Q: Though the arrival of John Campbell in Cheyenne would seem to present a major challenge to Durant's authority, Durant dismisses him as "nothing more than a bureaucrat." Do you think Durant feels at all threatened by him?
A: Durant has dealt with much more senior people than Campbell. What we haven't seen a lot of in the last few seasons is Durant operating in Washington. He has a number of senators and various high-card people in his pocket, so I don't think he's threatened. I think Campbell is an irritant, but I don't think Durant is up at night worrying about him particularly. Durant has dealt with much more powerful people than Campbell.
Q: In Episode 404, Durant goes out of his way to help Eva and wants nothing in return, telling her they're "friends." What do you think his motivations are for looking out for her?
Continue reading "Hell on Wheels Q&A – Colm Meaney (Thomas Durant)" »