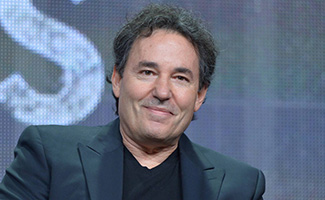 In this interview comprised of questions from Hell on Wheels fans, showrunner John Wirth talks about what to expect in Season 5 and his favorite scenes from the series' first four seasons.
Q: In Season 1, the focus was Cullen's search for vengeance for his family. Now it's the search for his family. Did you go back and study Season 1 when planning Season 4? Also, how do you balance Cullen's desire for family with his addiction to the railroad? — Speech Girl
A: In life, we sometimes go in circles when we don't necessarily want to. It is a common theme that runs through the series. Cullen's search for his family now is more about healing himself and becoming a whole person, as opposed to just trying to get the anger and anguish out. We've seen his attachment to the railroad in the past. In the finale this season, he ends up quitting, but then joining the [Central Pacific] railroad in order to find his family. What Huntington said is a good question for Cullen: How badly do you want to find your family?
Q: A script can possibly and suddenly evolve into a storyline you had not previously pondered. Has this been the case with Season 4 of Hell on Wheels, or did you have a clear understanding from beginning to end as to how this current season would play out? — Cathy P.
A: The writers have a lot of lead time before we begin production, so we have a pretty good road map before we get started. This season, a couple of things surprised me. The death of Sidney Snow [in Episode 411] and the decision to amputate his leg to try to save him was something that came up. We didn't plan on that. The hanging of Ruth [in Episode 412] was also not something we planned on early in the season. We thought Sidney might shoot Cullen. As we started to move through the season, we knew Ezra would be killed, and it emerged that Ruth would be Sidney's killer — then we decided where to go from there with her character.
Q: Do you know what will happen to each character by season's end, or do you allow the characters a chance to develop with the storyline as the season progresses? – Marie
Continue reading "Hell on Wheels Q&A – Showrunner John Wirth Answers Fan Questions" »