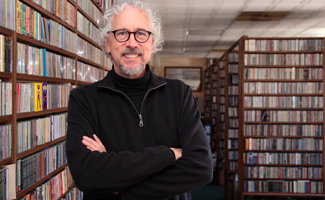 Rick Clark, Music Supervisor on AMC's Hell on Wheels, talks about selecting music for Season 4 and featuring a Bob Dylan song in the season finale.
Q: This is your first season as Music Supervisor for Hell on Wheels. What interested you most about working on the series?
A: I really enjoy well-conceived, well-written westerns. Hell on Wheels, in my book, is one of the best. The writing on the show is extraordinary, as is the acting. All around, it's a top-notch show with rich, detailed characters and powerful moral dilemmas.
Q: The Season 4 finale features a just-released alternate take of a Bob Dylan classic, "I Shall Be Released." How did you come to select that song as an appropriate one to use in the episode's closing moments?
A: John Wirth, the showrunner, called me up with an idea for putting a piece of music in at the very last scene. He suggested the song, but performed by a different artist. I liked the song, but that particular version didn't communicate what I felt was most effective for the scene. What it all comes down to is what works for what's at hand. I don't care what the song is or who it is – all I want to do is feel something. I just want to support the power of the moment. There's an emotional nakedness to Dylan's performance of this song, and when I put it up against the picture, it worked.
So, I called the guys at Dylan's office and we arrived at this recording that, at that point, had been previously unreleased. I listened to it and immediately thought it was a perfect fit. A lot of people would have gone for a grand, big finish for the final scene, but to me, Dylan's more personal feeling performance left enough air in the scene to allow Anson [Mount]'s acting to really breathe. They complemented each other. The final look on Cullen's face, combined with this beautiful song, is pretty powerful.
Q: Talk a little bit about the process for arranging for the rights to use a song in an episode. Were there any unique challenges with arranging for the use of "I Shall Be Released (Take 2)"?
Continue reading "Hell on Wheels Q&A – Rick Clark (Music Supervisor)" »