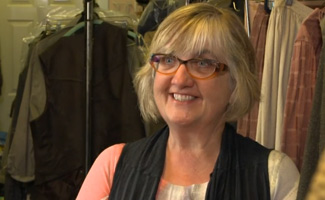 Carol Case, Costume Designer for AMC's Hell on Wheels, talks about designing costumes for newcomer John Campbell and what her own 19th century attire would look like.
Q: How much have the looks of series regulars needed to change over the course of four seasons?
A: Quite a bit, actually. A lot has happened to everybody. Everybody has gone through a certain evolution depending on their status in their community or what's happened to them. I think The Swede would be the most obvious one. He's gone, quite drastically, up and down and has had both good and bad fortune. That's affected the costumes a lot. Eva is a fairly good example, too. She's gone from being at the bottom of the bottom to being a wife, then a mother, then a widow; and she's now moving into a more independent look for herself that is her own, as opposed to the look of a mother or prostitute.
Q: Talk a little bit about The Swede's evolution.
A: The Swede's look was so good at the beginning of the show that we wanted to keep him in that world, but he's a man of many disguises. He's like a coyote, like in the Native American lore, or a chameleon. We tried to make him blend into the environment that he's in and still give us an edge and show that he isn't all that he appears to be. Chris [Heyerdahl] is a great actor to work with because he's willing to put in effort and make it a special thing. We've done a lot of fittings and talking and we try to keep him in dark colors. This last season, because he spent time as a Mormon, his costume didn't evolve too much, but at the end, we do find him going back towards his original look.
Q: After multiple seasons, does it get easier or harder to design for the series regulars? Do they get any input into their attire?
Continue reading "Hell on Wheels Q&A – Carol Case (Costume Designer)" »