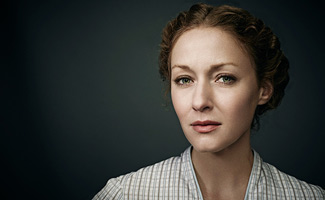 Jennifer Ferrin, who plays Louise Ellison on AMC's Hell on Wheels, talks about handling an authentic printing press and how her character has inspired her.
Q: You were a newcomer to Hell on Wheels last season. What has surprised you the most about being on the show so far?
A: I've never worked on a Western. It's a very specific genre. How well everything was written and the quality of production was a good surprise.
Q: You're now in your second season of playing Louise Ellison. What kinds of things has your character taught you about women during the 19th century?
A: I actually really love playing women in period because there's so many social constraints that are driving these characters. But underneath all that is the same kind of humanity and human nature that we all have, no matter the time period. Women in particular were expected to behave and act a certain way and keep everything buttoned up. To play a woman who doesn't really exist within any of those confines was great. Her job as a reporter is very much in a man's world, as well as her liberal mind in her personal life. Knowing that she worked in this real, hard-nosed profession isn't too far off from the way women have to compete now.
Q: You've got a new workspace this season. How do you like The Cheyenne Leader office set? Continue reading "Hell on Wheels Q&A – Jennifer Ferrin (Louise Ellison)" »