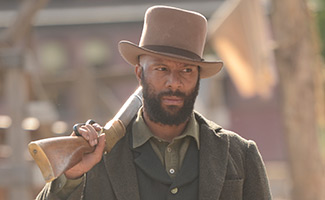 This week, Common says he still can't believe he's an Oscar winner. Plus, Anson Mount and Colm Meaney show up in movie trailers for The Forger and Where the Devil Hides, respectively. Read on for more:
• Common tells Variety he's still marveling at his best song Oscar: "It's the greatest achievement I've had as a professional in my life. Some days I walk by and I can't believe this is here with my name on it. It's such an amazing feeling and I really want to use the energy and the platform to do more."
• Catch Anson Mount at MovieWeb in the trailer for The Forger, a movie starring John Travolta that will be available exclusively to DirecTV subscribers on March 26 before it opens in theaters and on VOD platforms on April 24.
• Check out Colm Meaney at Dread Central in an exclusive clip from Where the Devil Hides, a movie that was recently released on DVD in the U.K.
Continue reading "Common Still Marveling at Oscar Win; Anson Mount, Colm Meaney in Movie Trailers" »