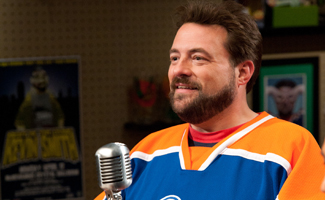 Kevin Smith, star of AMC's Comic Book Men, talks about what fans can look forward to in Season 3 and has some advice on playing Batman for his friend Ben Affleck.
Q: What can fans look forward to during Season 3 of Comic Book Men?
A: This season, we actually delve deeper into the fabric of the comic books and pop culture of our past. We're a show that specializes in reminiscing about comics, toys, things that we played with as kids and that a lot of the audience used to play with as well.  So we started bringing in some cast: Lou Ferrigno shows up. Nichelle Nichols, Uhura from Star Trek, shows up. Then we reached into the present and grabbed Scott Snyder and Greg Capullo, who work on the current Batman book. We also started putting in more stuff that we talk about — for instance, we talk about George Perez a lot, and we said, "Let's just bring George Perez on the show." I don't know any other shows that are shining a light on one of the world's greatest comic book artists, so we could be that show.
Q: Do you think being on a TV show has changed any of the guys at all?
A: They're still the same guys. I think that stems from the fact that Walter doesn't want to do the show — not in a way where he's like, "I hate this," but he's not a guy who's like, "I want to be on TV!" He had to be dragged into it, and every season he still has to be dragged into it. He does it more for the "I'm going to do it for you" kind of thing. So a guy who doesn't want to be there to begin with, he can't ever lose his head. Bryan Johnson, God love him, is one of the funniest people in the world I've ever known, but he has such low self-esteem. There's no way he could ever be like, "I'm f*cking king of this sh*t." So he, too, has not lost it. Mike is such a good-natured guy, he'd never lose it. The only one you have to look out for is Ming — as soon as the notion of the show was introduced, he's like, "Can I be on it?" His eyes lit up like Christmas. But even he is very much the same guy.
Q: In the Season 3 premiere, you hire Lou Ferrigno to help Bryan get into shape.  Have you worked out with Lou since you made Bryan your guinea pig?
Continue reading "Comic Book Men Q&A – Kevin Smith" »